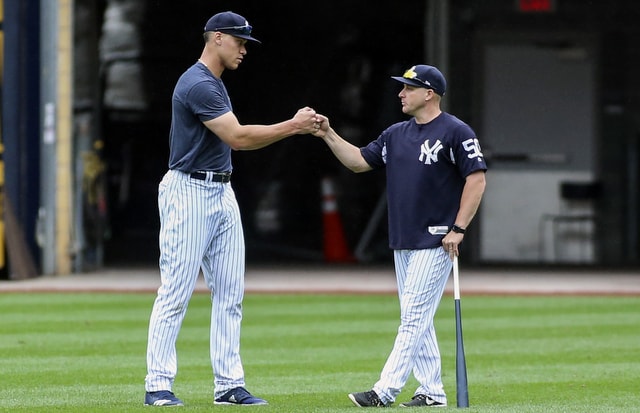 The summer of weird scheduling continues. The six-game road trip begins in earnest tonight and it includes two off-days and one doubleheader. The Yankees will play two games against the Marlins this week and then four games in three days against the Orioles this weekend. They have a doubleheader Saturday. Anyway, I have some thoughts on things, so let's get to 'em.
1. I feel like we need a little dose of reality here because Deranged Yankees Fan Syndrome™ seems to be at an all-time high. The Yankees are on pace for 102 wins and a +193 run differential. They are second in runs scored per game (5.22) and sixth in runs allowed per game (4.02). Their worst 30-game stretch is 15-15. The Yankees have been without their MVP caliber right fielder for almost four weeks now, and Gary Sanchez has been either hurt or bad pretty much all season — Gary has played five (5) games over the last two calendar months — and the absolute worst they've played during a 30-game stretch is .500 ball. The Yankees are very good and on the short list of teams with a legitimate chance to win the World Series. I get that the Red Sox are having a historic season and everyone is upset about it. There's nothing the Yankees can do about that though. The Yankees are very good and very dangerous, and once they get back to full strength, they'll be even more dangerous. I can't wait.
2. Speaking of that MVP caliber right fielder, wow did the Yankees botch Aaron Judge's recovery timetable. They didn't botch the rehab work, thankfully — it's not like Judge suffered a setback and had to be shut down — they just botched the timetable. They said he would be able to return to game action in three weeks and here we are three weeks and five days later, and Judge still has not started taking dry swings. Joel Sherman spoke to Brian Cashman about it and Cashman basically chalked it up to being overly optimistic. Sucks. The important thing is Judge is continuing with his rehab work and is expected back this year. Whenever he comes back is whenever he comes back. The Yankees have to be patient because Judge is way too important. They need him for the postseason. The rest of the regular season? Eh, they can manage without him. Hopefully Judge comes back fairly soon and gets enough at-bats in September to be ready for October. But wow, the Yankees really overshot the timetable here. Three weeks will end up being not even close to his actual timetable.
3. He's not going to win MVP nor should he win MVP, but man, Giancarlo Stanton sure is playing like an MVP these days, isn't he? Stanton is hitting .302/.366/.579 (151 wRC+) with 27 home runs since May 1st and .324/.381/.613 (163 wRC+) with 13 home runs since July 1st, and he's done that while playing with a tight hamstring. He's playing hurt and he's having an impact. Stanton is sitting on 299 career home runs and it sure would be cool to see him hit his 300th in one of these two games at Marlins Park. Even if he doesn't get hit that 300th home run tonight or tomorrow, I imagine returning to Miami will be pretty special for him. He should get a pretty big ovation. Either way, Stanton has been incredible the last few weeks and months. What a ballplayer this guy is. I can't wait to see him and Judge back in the lineup together and locked in at the same time.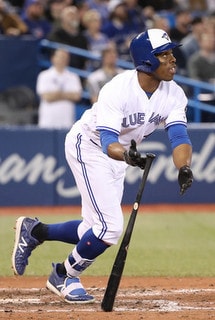 4. Still waiting for the Yankees to get a bat, you guys. I know they've scored plenty of runs lately — the Yankees are averaging 5.32 runs per game in August — but I'm not sure Neil Walker in right field is a viable long-term solution. He's done his best out there. I would just prefer an actual outfielder in right field with Walker splitting his time at the various infield spots. Curtis Granderson has cleared trade waivers already and he makes perfect sense to me. Whoever it is, Granderson or someone else, the Yankees have until 11:59pm ET on August 31st to make a deal and have that player be eligible for the postseason roster. There are no loopholes or anything here. That is a hard deadline, which means the Yankees have ten days to make a trade for a postseason-eligible player. They should do it. Get that bat and give yourself protection in case Judge doesn't come back or Greg Bird doesn't start hitting or whatever. It's crazy to me the Yankees haven't added a bat already. There's still time to address that.
5. The Yankees have had some pretty crummy timing with injuries this year. It's no one's fault. It's just the way things played out. Erik Kratz informed the Yankees he was planning to use him June 1st opt-out, so they traded him to the Brewers rather than lose him for nothing. Soon thereafter, Sanchez went on the disabled list and the Yankees had to dip into their catching depth. Kratz isn't great or anything (he's hitting .244/.281/.370 with Milwaukee), but he's a viable third catcher on the depth chart who wasn't available when Sanchez got hurt. Then the Yankees traded Billy McKinney literally hours before Judge suffered the broken wrist. The trade press release went out at 4:09pm ET. Judge got hit in his first at-bat of a 7pm ET game, so roughly a three-hour difference there. Unfortunate, but what can you do? Just some bad luck with timing this year. Bad timing and unfortunate injuries, and the Yankees are still among the best teams in MLB. Would be nice if they caught a break somewhere along the way though.
6. I'm certain we're going to see Justus Sheffield before the end of the season. Cashman all but confirmed it last week. My guess is Sheffield will be called up after the Triple-A postseason ends in September. (Assuming the RailRiders qualify.) And because he has power swing-and-miss stuff from the left side, Sheffield will have an opportunity to pitch his way into consideration for the postseason roster. Jordan Montgomery's season-ending injury is kinda important here. Montgomery's injury allows the Yankees to carry a pitcher on their postseason roster even if that pitcher doesn't pitch in the big leagues before September 1st. Sheffield would, technically, replace Montgomery on the postseason roster. It's kinda silly, but that's the rule. Francisco Rodriguez replaced Steve Green, an up-and-down guy who needed Tommy John surgery in Spring Training, on the Angels postseason roster in 2002. The Yankees have such a good bullpen that I'm not sure Sheffield will get enough innings in September to show he belongs on the postseason roster, but hey, I sure am looking forward to watching him.